What to Wear in Family Photos:

Family Photos are an investment in your family. They are memories that you will cherish for years to come. They capture your family at that moment in time, and you want that moment to look it's best.

Picking out what to wear for family photos is one of the hardest parts of arranging family photos and often one of the things that hold people back from booking family photos. But picking out what to wear in family photos does not have to be stressful. Here are some tips on picking out what to wear for family photos to help your family be photographed in their best light.

Colors Coordination
I always stress with my clients that you want to go for color coordinating rather than uniformity. Everyone does not need to be in white and khaki. Primary colors work well just be sure to mix them up and add in complementary colors. Try to pick one primary color and then add in one or two complimenting colors.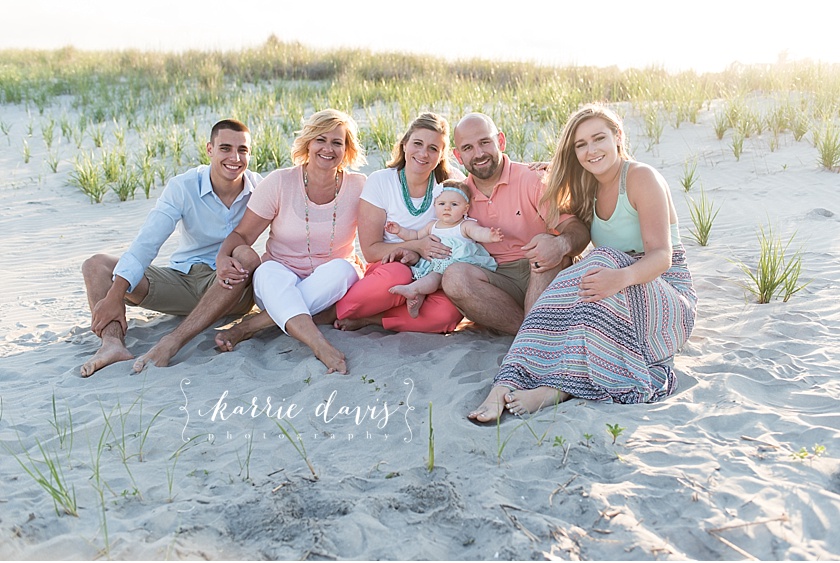 Don't be too matching
When it comes to picking colors it can be easy to go with all the same color but you don't want it to look like everyone is in a uniform. Follow the rule of building your outfits around a coordinating color and then add in pops of your complimentary colors.
Wear what makes you Comfortable
Pick something you look good in. These photos are going to be on your walls for years, you don't want to look back and hate what you were wearing. Ill fitting clothes not only make you feel bad but it comes through in facial expressions. When you feel great in your clothes you look great. Pick an outfit that you love and feel good in.

Add in Layers
Layers give depth and dimension to your photos. For summer think of long pendant necklaces or a cute belt. For winter think: scarves, cardigans, statement necklaces or even hats. Be flexible with your layers, no one will be smiling if they are too hot or too cold.

Consider season
You are going to want photos that look good year round. So when you are getting those photos for holiday cards also consider if you will be hanging these pictures up year round. If so maybe go with a less "holiday themed" shoot or avoid wearing Christmas hats. My family always wants to do Santa hats but I would rather our yearly family photos not scream Christmas.

What to Avoid
There are a few things you want to avoid when it comes to family photos. Neon colors can photograph harshly or leave a cast on skin. Big lettering or words on a shirt can be distracting. Wearing lots of green for an outdoor shoot where there might be lots of green will make you not stand out in the photos.

Where to shop
There are many great stores that do a wonderful job of providing coordinating outfits for the whole family at a variety of price points. I generally recommend Gap, H + M, and Old Navy since they both have a variety of basics for the whole family. Free People, Zara and Urban Outfitters are always great for women too.

Picking out clothes for family photos doesn't have to be stressful. You can use sites like Polyvore to build out a lookbook for your photos. Or just simply lay all your outfits together and go for the look you like best. When in doubt ask a friend to come shopping with you or to help make a judgement call on what to wear.